Plastic Injection Molding Machine For Pet-Preforms and Caps
Plastic injection molding machines is provided for PET-preforms and caps. We have abundant practical experience in the beverage packing industry. To achieve the purpose of industry optimization and help you have a leading production level in the industry, we provide turn-key solutions based on your demands.
The benefits of plastic injection molding machine to apply in the production of PET-PREFORMS AND CAPS
The PET Preform and Cap injection molding are wildly using in mineral water, soft drinks, fruit juice, edible oil, and so on, it needs good quality and sanitary conditions. The dimensional accuracy of the bottle cap is strictly required, to ensure that the contents filled in the bottle have good airtightness. Top Unite injection molding machine has excellent stability, accurate injection shot volume, and high consistency of products in each production cycle, which can meet customer requirements for accuracy and product yield.

Besides, Top Unite plans a servo energy-saving hybrid injection molding machine and a high-speed hybrid injection molding machine for PET preform and bottle cap injection molding customers. According to the customer's product characteristics and production needs, we provide suggestions for different models and assists in the integration of auxiliary equipment. Effectively shorten the time to build equipment and achieve the goal of timely mass production.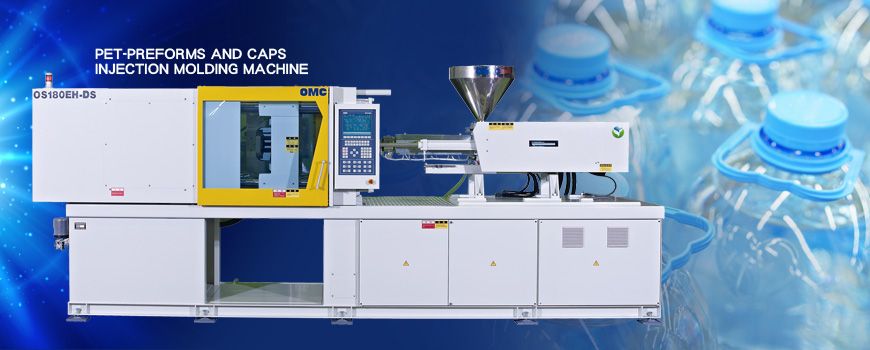 Top Unite provides container injection molding machines for food and beverage.
Related Products

EH-DS Series (50~750 TON)

---

Plastic-cap special plastic injection molding machine is designed against the food packaging industry. The machine builds in a PP and PE special double thread material barrel. It helps to compound with color masterbatch during the material is plasticizing to reduce the defective products.To save more time, we place a proportional valve to boot up the speed in the mold closing/opening and make it more accurate to protect your mold. Meanwhile, we strengthen the clamping toggle structure to bear the high pressure from high-speed mold closing/opening which extends the service life. If you need more detail of product information or buying consultation, please contact us.

---

EH Series (180~750 TON)

---

Medium and large-size Hydraulic Plastic Injection Molding Machines ranging from 180ton to 750ton has the mainly hydraulic system configures an Electro-hydraulic proportional system to control the oil flow and pressure. It has responsive and high-consistency features. Via the Lvdt spool receives the feedback signal and modifying output, lets the users get a hydraulic pressure closer to the actual situation, and helps the users grasp the control of injection parameters. The power resource is from a double fixed vane pump. The main hydraulic system can provide a high-flow source via pumps' confluent, which gives an advantage to booting up the speed of the machine.The traditional-hydraulic system has two features, one is high-pressure resistance, and second is it can provide a long holding time. So the traditional injection machine is more suitable for making thick parts, transparent parts, products that require a smooth surface, or materials that need high-pressure holding. If you need more detail of product information or buying consultation, please contact us.

---

EH-DS Series (180~750 TON)

---

The Hybrid Plastic Injection molding machine (180ton to 750ton medium and large size) equips a high-performance servo motor, which also achieves an outstanding energy-saving effect. With a rapid response and pressure output linear feature, easy to reach every requirement given by the user. It reduces the motor r.p.m when during the low flow is required and the product cooling to save the energy consumption. Comparing with the conventional hydraulic injection machine, it saves 60% energy at least.

---

---